Pepperdine Graziadio Business School Students Pioneer Course Streamlining Data Science Using GPU Technology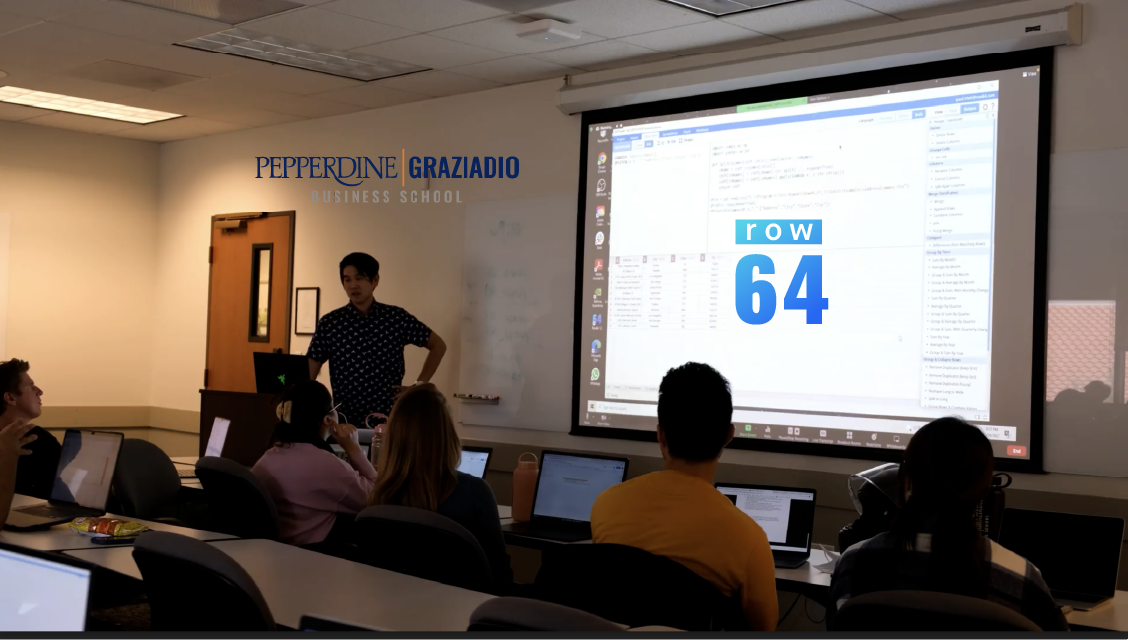 For many students at the Pepperdine Graziadio Business School, their Capstone course is a highlight of their graduate school tenure. A final course in their final semester that allows them to apply what they've learned in business school to real life projects.
While this class is often its own reward, students of the Summer 2022 "Analytics Education To Business" course received an additional bonus during their course this year: a chance to pilot brand new software that brings powerful GPU compute technology to the world of data science.
Led by Alfonso Berumen, Instructor of Decision Sciences and Information at the Graziadio Business School, the pilot program gave students exclusive access to Row64 software&mdasha program using the power of GPUs and Python scripting to massively increase the scale and reduce the load time for large data sets.
Armed with cutting edge software that allowed them to do large scale data manipulation up to 100 times faster than Excel, the students were tasked with working with datasets in the millions of rows to create data visualizations and use their experience to do competitive market analysis on emerging software to understand how to make a case for new tools and skill sets emerging in the data science world.
The Genesis of Collaboration
Pepperdine Graziadio Business School has built a name for itself in the business world, having many of its graduates recruited at the most prestigious investment banks in the world.
However, as the need for high level analytical thinking and data science beyond the realms of finance, graduates are increasingly finding themselves with exciting and novel opportunities &mdashbeyond strictly finance. Such was the case with Paul Trinh, a 2021 MBA graduate who now is Director of Product at Row64.
"I was introduced to Row64 by a then student of mine, Paul Trinh, who's now a part of the team at the company." said Clemens Kownatzki, Associate Dean at Pepperdine Graziadio Business School. "It took a few more months before I could get my hands on the tool with their first production version&hellipI was amazed about the speed. Something that might have taken Excel 20 minutes could be done in a few seconds."
With Associate Dean Kownatzki's approval to implement Row64 software in the powerful iLabs facility, the decision now had to be made about if there was an appropriate course to integrate the software into. For this, Alfonso Berumen, Instructor of Decision Sciences & Information stepped up, introducing Row64 to his cohort of 25 students for the Business and Analytics Capstone Course.
While Instructor Berumen and the Business Analytics Program Committee had previously turned down collaborations from other menu-based analytics software companies (which Berumen described as more apt for a middle manager role than the analyst role his students were being hired for), he identified two major benefits that attracted him to Row64: a native spreadsheet UI, and Python scripting abilities.
"I wanted to see what the hype was about. I've used so many different software like SAS, R, Python&hellipI wanted to sort of see how it stacked up because I was initially a little bit skeptical that you could just use a giant spreadsheet to analyze data and it would have the same functionality or the same abilities or capabilities as other options," said Berumen.
"The second main component is that it's Python-based. Being able to see the python code to be able to work with Python code and interface with that&hellipI mean right now the most popular data science language. I think that's a very important part of the Row64 software as well."
Staying Ahead Of The Skills Curve
Berumen's comments speak to an understood truth of the modern business skill set: working with large data sets, particularly with the use of Python, has become a requirement.
"[T]he finance industry is increasingly looking for finance graduates with coding skills," says Associate Dean Kownatzki. "If Python isn't on your resume, good luck finding a job in an investment firm these days."
The problem is that for many eager business school students, coding is a means to an end a task to labor through for the true reward of applying an analytical mind to a treasure trove of data. Many naturally business minded students struggle or suffer through intensive coding courses that have become common not for coding any program, but simply for sifting through data. Coding tests have become common, which is adding a technical barrier to key insights.
Instructor Berumen has noticed this in his cohorts. "There's definitely different abilities and different interest areas. So there's some students who may not be strong coders but still have the ability to analyze data effectively if provided with the right tool."
While Pepperdine maintains a strong emphasis on teaching students to learn how to code in Python (even offering a course exclusive to this), Row64 is on the frontier of the data science world, providing a powerful and simple to use alternative for students who find their forte is in insight. By outfitting the powerful iLab computers with Row64 (available for all graduate student use) to use for big data sets, Pepperdine is giving their students an extra skill and toolset over students from other Universities.
As the world increasingly harnesses the power of GPU compute, and large million row data sets grow increasingly common, new hires who can leverage the emerging technology in their benefit will have a head start on the jobs market.
As Associate Dean Kownatzki puts it, when it comes to staying ahead of the game in the business world, "technological innovation is always the biggest driver."
Judging By Students
The first pilot of its kind, both the faculty at Pepperdine and the founders at Row64 were eager to see how it would pan out. For his part, the pilot's leader Professor Berumen said the software seemed very intuitive.
"I didn't really see a significant learning curve. It seemed like pretty quickly they were able to pick up on how to use the software&hellip use the recipes." he said. "I think they relied a lot on those recipes. It seemed very straightforward from my perspective."
Berumen's synopsis appeared to be echoed by the students, many of whom commented on how technology like this would have reshaped their learning by doing so much of the leg work required of Python&mdashfrom data ingestion all the way through data visualization.
"Row64 merges every data analysts' favorite tool into one," said Megan O' Connor, one of the students. "[It] enhances data storytelling in ways not yet available"
"Row64 focuses on the frontier of speed and scale in data science with parallelization of the GPU '', said another student Nvyang Liu. "This software is outstanding for loading and processing massive data sets''
With unanimous approval from both the students and faculty responsible, the pilot between Row64 and Pepperdine serves as an example of the symbiotic potential of combining the brightest young minds of today, with the technology of tomorrow. A relationship that rewards both the students, and the software developers.
"There is so much promise coming out of these mutually beneficial projects," says Associate Dean Kownatzki. "All of this is very much in line with my vision to integrate companies in our educational offerings and to create pathways to learn from each other."
"In an ideal world, businesses will provide insights as to the skills and capabilities for success and we can in turn educate our students to develop into ideal job candidates&mdashhitting the ground running from day one.
Published: Sep 9, 2022 5:00pm UTC
Recommended Reading